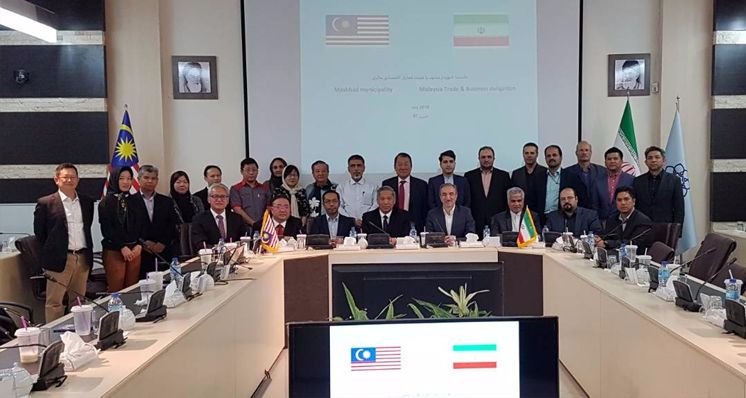 Event Details
Date: 

  – 

Cities: Tehran; Mashhad & Kish Island
Iran–Malaysia relations refers to the current and historical relationship between Iran and Malaysia. Iran has an embassy in Kuala Lumpur and Malaysia has an embassy in Tehran. Both countries are members of the Organization of Islamic Cooperation (OIC) and the Non-Aligned Movement (NAM) and have used these forums and bilateral relations to develop political ties. Relations between the two countries have begun since the independence of Malaya. Both countries have co-operated in a number of large industrial projects, many of them in the energy sector. Earlier in October 2007, Iran and Malaysia were working towards an extensive multilateral oil refinery deal with Venezuela in Syria. In December 2007, the two countries signed a US$6-billion-dollar deal to develop areas of Iran's offshore gas fields. In January 2017, the two countries are set to pursue a free trade agreement. A memorandum of understanding (MoU) on gas field study was signed in February between National Iranian Oil Company (NIOC) and Malaysia's Bukhary International Ventures (BIV).
OPPORTUNITIES FOR MALAYSIAN COMPANIES
Malaysian companies can now take advantage of this latest development to establish business linkages with Iran.
IRAN's Key Indicators:
The 2nd largest economy in the Middle East and North Africa(MENA) after Saudi Arabia, with GDP of US$406.3 billion (2014);
2nd largest gas reserves in the world, and 4th largest oil reserves;
2nd largest population in MENA, after Egypt, with 78.5 million people; and
The second international forum on investment opportunities in Iran post-sanctions
The upper-middle-income country with a young population and highly educated workforce.
Potential Products and Services:
Oil and Gas;
Raw material & semi-manufactured products, industrial supplies and equipment;
Automotive and automotive parts;
Chemicals and chemical products;
Building materials;
Medical devices
Rubber products; and
Food products.
Services that Malaysian companies could offer:
All services related to the Oil and Gas sector;
Consultancy on machinery & improvement processes, technologies;
Maintenance, repair & operations (MRO) for aerospace and maritime; and
All services related to airports, rails and infrastructures.
In regard to above-mentioned potentials and after holding a successful Trade Mission to Iran on 15-23 December 2016 in collaboration with MICCI, MIDA, SME Association with the participation of 55 Malaysian companies, IRAN-ASEAN Business Council(IABC) continued to promote Trade and Investment between Malaysia and Iran in various programs. This time IABC in collaboration with Malaysia External Trade Development Corporation (MATRADE), SME Association and Halal Industry Development Corporation (HDC), organized the second Trade and Investment mission to Iran covering 3 industrial cities which are Tehran, Mashhad and Kish on 31st Aug-7th Sep 2018.
OBJECTIVES OF THE MISSION:
Expanding of business cooperation and investment among the private sectors of the two countries
Understanding of the capabilities and target markets in order to promote joint economic activities
Setting up joint Halal events in Malaysia and Iran
Development of activities in the field of food industry, information technology, construction industry, Tourism and etc.
Evaluating the possibility of bilateral investment on existing projects of two countries
Study on IRAN-MALAYSIA Trade Challenges & Way Forward
Introduction to key organizations in Iran and interaction between Iran and Malaysia public sectors to facilitate trade
Roadshow to TEHRAN-MASHHAD-KISH as the three strategic cities of Iran (the economic and commercial point of view)
Business Matching Session (Individual Business Meeting)
The opportunities for holding B2B meetings were provided in the following venues:
IRAN Trade Promotion Organization
Khorasan Razavi Chamber of Commerce
IRAN Chamber of Commerce
IRAN Construction Engineering Organization(IRCEO)
The organization of urban business and agricultural products of Mashhad Municipality
Mashhad International Exhibition
SHAHR-e-AFTAB International Exhibition
Malaysia embassy in IRAN
Kish Island Free Zone
Astane Ghods-e- Razavi Holding Group
Kohsar Holding Group
Gas Exhibition
Foodex 2018 Exhibition
Total number of business meetings conducted during the Mission: 20
Total generated/ potential sales or other opportunities: Signing 3 MOUs
1. Signing trilateral MOU: SME Association of Malaysia- Isfahan Chamber of Commerce- IRAN ASEAN Business Council
2. MoU signing between IRAN Construction Engineering Organization & IRAN ASEAN Business Council
1. Signing MoU between MIHAS – Shahr Aftab Exhibition Co.